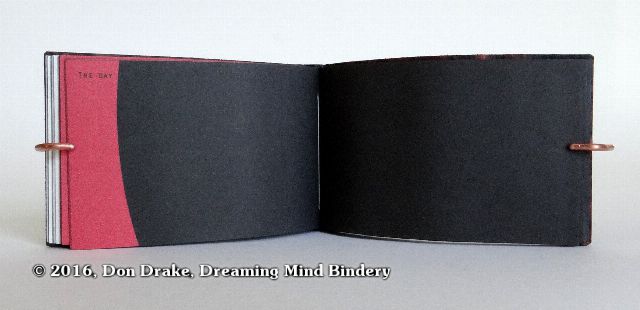 The Day I Met George was accepted to a second show today. Earlier in the day I received this news from 23 Sandy Gallery, and this evening I heard from Eileen Madden that the jury has included my flip book/short story into words|matter in Chicago Illinois.
Here is the description of their Book Arts Library from the call for submissions:
Artist Books are a unique art form and a challenging medium to display in traditional art shows. They are often under glass, and the viewer has access to only the spread selected by the show installers, or the cover of the book. We will again be hosting a one month long Book Arts Library where anyone interested can come and view artists books from cover to cover.
I'm thrilled that this serious little flip book is getting out to an audience, especially in a show like words|matter which focuses on making the text content available to the show visitors.
Also In October, The Book Arts Jam
George will also be among the work I'll be showing at the 2016 Book Arts Jam on Sunday, October 16, 2016 at the Palo Alto Elks Lodge, 4249 El Camino Real, Palo Alto, CA.
If you're familiar with this incredible and long running event put on by the Bay Area Book Artists (BABA), you know it's not an ideal venue for a text dependent work like The Day I Met George. This is why I'm working to arrange time and space at the Jam where I can do a reading of the story.
If you aren't in Chicago or Portland to see the book, I hope you can join the celebration in Palo Alto and possibly hear the story of George.
Purchase
Hand bound copies of The Day I Met George are available for $280 (USD).